By Stefania Felicia, YES 2017-18 Indonesia, hosted with AFS in Indianola, WA
A few weeks ago, 27 people from different backgrounds gathered in the same room and everything changed.
This moment happened during the three-day Better Understanding for a Better World (BUBW) Conference I attended in Orlando, Florida. BUBW is an annual conference conducted by Civilizations Exchange and Cooperation Foundation. It gives American and international high school students from diverse backgrounds the chance to meet each other and work together on leadership-building, interfaith and intercultural dialogue. It was a great honor for me, and other exchange students from around the world, to be selected as a participant. The event included an International Youth Summit, group discussions, visits to various houses of worship to learn about different faith traditions, and presentations from all the countries and cultures represented.
[dropcaps]F[/dropcaps] rom the very first pizza dinner with the participants, I loved learning from and seeing all the different cultural viewpoints. The discussions on religion and culture were eye-opening. I learned to see problems from other perspectives, which helped me gain a better understanding of the issues being discussed.
I also highly appreciated the interfaith discussion and the visit to a church, synagogue, and mosque to speak with faith leaders and learn more about Judaism, Christianity, and Islam. What I discovered was that all these religions have the same roots and have more commonalities than differences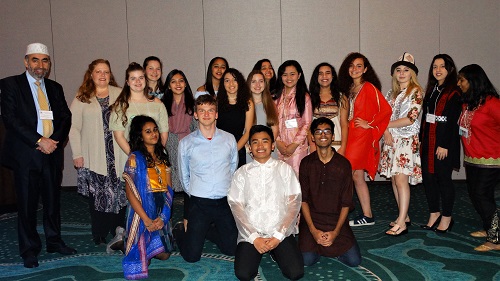 I think we should have more conferences like this throughout the world, where students of all faiths and backgrounds can meet, talk with each other and collaborate on solutions to issues facing our communities. We have the power to spread peace in diversity. The only thing that matters is we are all human. I'm so grateful to the US State Department, CECF, and my placement organization, AFS-USA. Thank you for giving us this excellent opportunity.
In the end, I learned that we are the leaders of tomorrow. We built friendships together, learned about our different nations, cultures, and beliefs, and broke down lines that separated us. Being different is okay, it is valuable for society and shouldn't be used as a reason to fight. With courage, intelligence, and this experience, we hope that we can change the world, for a better future among the beautiful diversity of people across the globe.
Silahkan anda komentari informasi diatas
komentar